Patient tailored medical systemfor foreigners
International Healthcare Center
_ Total Care System
We think about everything in a patient-centered manner.
The best medical staff, providing high quality medical services, put the utmost effort to offer comfortable and safe medical services for foreign patients. Furthermore, by providing integrated healthcare consultation services, diagnosis, examination, treatment through the cooperation of medical staff and professionals of diverse medical backgrounds with over 10 years of experience, we actualize the one-stop medical service. Additionally, we built smart systems as well as a state-of-the-art equipment through cooperative treatment and coordination by diseases for patient centered and tailored treatments.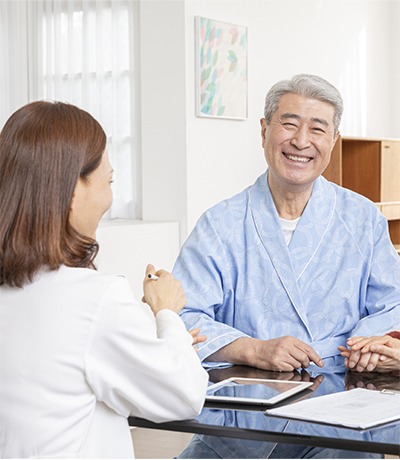 International Healthcare Center
that communicates with their patients
through various channels
The International Healthcare Center communicates with our patients through SNS as well as the homepage.
We provide hospital medical information and a variety of contents are offered through a live broadcast where you can meet the doctors and be introduced to Korean Culture. We vow to be an International Healthcare Center with the patients through various channels in times of non-contact.
Procedure
Consultation

Provide
an invoice

Pick-up /
Sending Service

Treatment
Procedure

Hospital
Admission

Follow-up
Management
Hours of Operation
Monday ~ Friday : 8:30 AM ~ 5:00 PM
Staurday : 8:30 AM ~ 1:00 PM
Closed on National Holidays and Public holidays.